Graduate Gets Second Chance to Learn and Live
Graduate Gets Second Chance to Learn and Live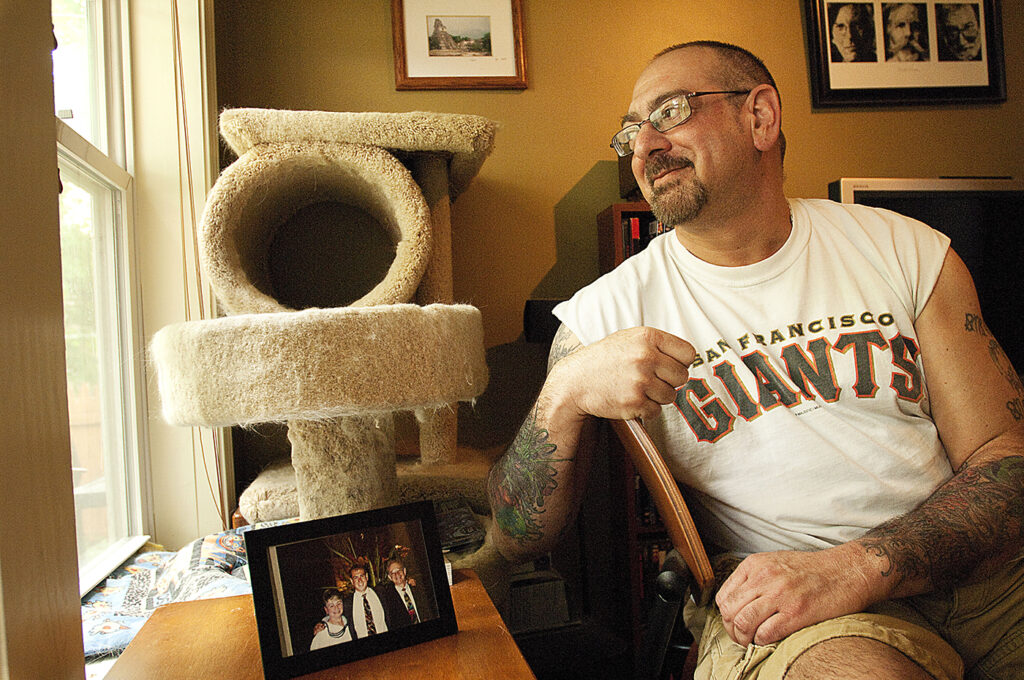 BY JEFFREY BLACKWELL/STAFF WRITER
(Published in the Democrat & Chronicle (March, 2013)
Thousands of men and women will walk across graduation stages around Rochester this weekend, shaking hands with the dean before stepping into their new lives.
For Steven Kassirer, one of a growing number of adult students going back to school in search of new degrees and skills, it's more like a second life.
When the former lawyer, 48, receives his master's degree in counseling from The College at Brockport on Friday, it will mark the end of a hard-fought journey through a personal health crisis and a battle with inner demons.
"I moved back to Rochester in 2002, and if you would have asked me where I would be 11 years from now, I would have answered 'six feet under,'" said Kassirer, of Irondequoit. "So it's a huge deal for me to be here today, because for an individual to live two lives is one of the most precious things I can imagine."
About 15 percent of Brockport's graduates this year — about 2,500, including undergraduates and postgraduates — are 25 or older, and adult enrollment at the school hovers around 24 percent after a recent uptick.
The national trend is more pronounced, according to the U.S. Department of Education. Enrollment of students 25 and older increased 42 percent between 2000 and 2010, easily outpacing the growth in younger students (34 percent).
Rising tuition costs causing long leaves from college. Advancement potential in current jobs. Mid-life career changes. There are many reasons why so-called nontraditional students "are increasingly becoming a traditional student," said Jamie Spiller, dean of Brockport's graduate school.
"There are also a lot of people who change careers like Steve who are very successful in a particular career, but are looking for personal enrichment in their career by making a shift into something that is more meaningful to them."
But in other ways, there aren't very many people like Steve at all.
A personal crisis
Kassirer's previous life was the practice of law. He earned a bachelor's degree from the University at Buffalo in 1987, then his law degree from the University of San Francisco School of Law in 1993.
The Irondequoit native had a very successful career as an attorney and partner in a San Francisco law firm that specialized in consumer fraud, unfair business practices and consumer advocacy. In 2000, he was named the Pro-bono Attorney of the Year by the State Bar of California.
But life drastically changed for Kassirer with an unexpected phone call.
"Everything was going well, I was working the typical associate 80 hours a week, pretty much how I planned my life to move," Kassirer said. "And then in 1997, I was diagnosed as being HIV positive. I was told over the phone and I didn't know how to deal with it."
The diagnosis was a crossroads for the promising young lawyer. At a time when he needed to take care of his health, regularly go to doctor's appointments and take the drugs then prescribed for HIV, Kassirer said he fell into a deep depression. Panic attacks left him confined to bed for days.
When the side effects became too painful, Kassirer stopped taking AZT and developed AIDS in 2002.
He came down with an infection that caused convulsions and sent him to the hospital.
That is when he reached out to his parents to let them know he was dying.
"He was very, very sick and we drove him from Colorado and got him connected to doctors here in Rochester," said Phil Kassirer, Steven's father. "Eleven years ago I would have never considered that, number one, that he would be in the physical status he is in today, and number two, that he would ever consider going back to school."
In Rochester, Kassirer got connected with AIDS Care, The Center for Positive Living.
Through his counselor, he said, he was able to work through his depression, hopelessness and fear of his illness. He was also battling an addiction to Oxycontin, which his doctors prescribed for relief from pain.
Kassirer credits his counseling at AIDS Care for helping him put his life back together and opening his mind to improving his health.
He went to a detox center to kick the addiction to Oxycontin and slowly, with the help of doctors, greatly improve his health.
Changed outlook
Now he wants to help others do the same.
"I was really getting better, things were not always negative anymore, my outlook on life has become positive and the medications had advanced so much that I no longer had a viral load," said Kassirer. "So one day I asked my counselor what she did and she said she was a licensed mental health counselor and as she explained it became evident that this was something I wanted to do."
Kassirer will receive his master's degree in mental health counseling Friday, and is enrolled at Syracuse University in the fall to begin work on his doctorate. His dream is to teach — at the college level, or law school — and combine his education in therapy, law and personal experiences to help inspire and instruct new mental health counselors.
Thomas Hernández, professor and chairman of Brockport's Department of Counselor Education, said Kassirer was a graduate assistant who helped with research and took what he had learned in life to help others in clinical settings with patients.
"I've had a tremendous opportunity to watch Steven develop as a counselor," he said. "His story is nothing short of inspiring and he has become part of our department in many ways. His ability to take all these things and put them together is the exciting part about watching him grow."
Friday's graduation ceremony will be just another step in Kassirer's recovery from depression, addiction and near death from a disease that has no cure. His medications keep him healthy and his goals keep him moving on his path. His new diploma will be a ticket for the next leg of the journey.
"It brings tears to my eyes and it makes me emotional to think that I could, with the help of so many people along the way, be where I am," Kassirer said. "Sometimes it was baby steps and other times it was great leaps of faith."